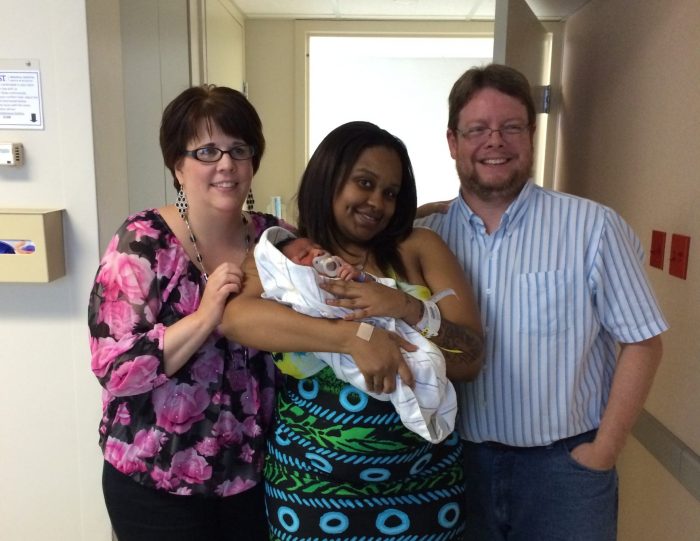 How Adoption Blesses Lives: Real Stories to Celebrate National Adoption Month
As a full-service adoption agency, A Guardian Angel Adoptions has the privilege of working with hundreds of expectant mothers and prospective adoptive parents to create an adoption plan and offer adoption services that best suit their needs and can help them navigate the entire adoption process.
Over the years, we have helped bring families together and worked to instill confidence in expectant mothers to help them know their newborn will be placed in a loving family. We understand the emotional journey that this process entails, and while difficult, we know how much joy and peace adoption brings to so many lives. In fact, as adoptive mothers ourselves, we hold tight to the experiences our own families have had and are passionate about offering adoptive services to expectant women and families who are facing similar challenges we have experienced.
In honor of National Adoption Month, A Guardian Angel Adoptions felt it only appropriate to celebrate with the stories of those we have had the privilege of working with throughout their adoption journey. The purpose of National Adoption Month is to spread awareness about the importance of adoption and the need for loving families to choose children who are being placed for adoption. Our purpose at A Guardian Angel is to help birth mothers know there are options out there for unexpected pregnancies that can ensure their child a beautiful life if they don't feel capable of providing that at the time they learn of their pregnancy.
Adoption can be a beautiful experience, and with the right support system can bless the lives of all who are involved. A Guardian Angel Adoptions is a full-service adoption agency that offers expectant mothers more than just free services but a friend and support system that they can turn to as they are looking for answers. We know no two stories are the same, and we value every expectant mother's and prospective adoptive families' experience. We believe the best thing we can do is share the experiences of those we have worked with and continue to support women and families in their adoption journeys. Welcome to the adoption community!
Adoption in the Eyes of an Adoptee
Adoption can seem like a scary journey, especially for an expectant mother. When is the right time to tell people? How should you share your unexpected pregnancy? Is adoption the right choice?
In a letter from an adoptee, Taylor, now in her 20's, shares her adoption experience and expresses gratitude for her mother's decision to place her for adoption. She raises awareness of all of the beautiful life experiences she wouldn't have been able to have if her mother hadn't chosen adoption. In growing up and adopting a child of her own, she shares the lasting impact adoption has made on her life and calls all expectant mothers to remember that they matter and that the choice they make can bless the life of their child in endless ways. Read A letter from an adoptee.
Adoption from an Expectant Mother's Experience
The adoption process happened for this particular expectant mother early on in her pregnancy. After making several pros and cons lists, she decided that placing her baby for adoption was the least selfish and best option for her son. Though difficult not to become emotionally attached to her child, she felt a sense of relief when meeting the adoptive family she had chosen to care for her son. Though many had their opinions about her decision and tried offering their advice, she found comfort in attending support groups and communicating with the adoptive family to schedule times to see her son and speak to him after birth. Though there are moments her heart longs to be with him, she knows it was the right thing to do. Read more about a birth mother's story choosing adoption.
An Adoptive Mother's Experience Through Adoption
In a letter to her child's birth mother, this adoptive mother expresses gratitude for the sacrifice that her child's birth mother made to help her become a mother. She reflects on the moment she said her goodbyes to the birth mother and then the experiences she was able to have as a mother over the next ten years with her son. In her letter, she expresses a longing to tell her child's birth mother that he is safe, loved and thriving and wishes that the birth mother could be with them in celebrating milestones in her son's life. She wants her son's birth mother to know that she will always be welcome and loved in her and her family's lives. Learn more about how she was able to contact the birth mother again and how they were able to welcome her into the family. Read more from a letter to a birth mother from an adoptive mother.
How you can Help During National Adoption Month
Whether you or your loved ones have or haven't directly been impacted by adoption, there are several things you can do to raise awareness about adoption and participate in the celebration of National Adoption Month. Whether it's donating to a foundation, celebrating an adoptive family you may know, or becoming more educated on the adoption process, there are endless possibilities. Here's a list of some great ways to participate alongside us:
Support families who are undergoing the adoption process.
Donate to organizations that are protecting children and working to place them in homes.
Host a shower for an adoptive family and celebrate the process of adoption.
Share yours or your child's adoption journey.
Spread awareness of National Adoption Month through social media.
Learn more through movies and books that promote the values of adoption.
Write a thank you letter to your adoptive parents, birth mother or someone you know who has been through the adoption process.
Celebrate your adoptive child's heritage.
A Guardian Angel Adoptions is dedicated to providing adoption education and services to expectant mothers and prospective adoptive families who are hoping to complete their family. Not only does adoption provide a life for many newborns, but it allows the chance for couples to grow their own families and bring a longed-for newborn child into their family. For more information or questions about the adoption process, contact A Guardian Angel Adoptions today.