How to Give up a Baby for Adoption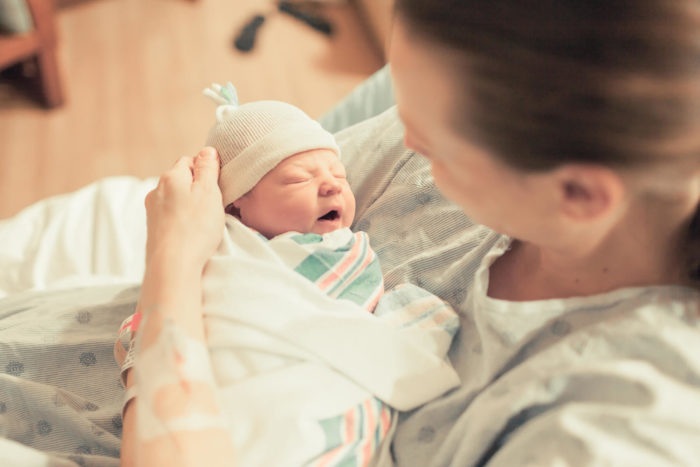 You're not "giving up" your child—you're giving them a loving family and a bright future.
Motherhood comes in many forms. From biological and surrogate to foster and adoptive, no mom is exactly the same. Motherhood isn't defined by how your child comes into your life or how long they stay in your life. The most important quality in a mother is unconditional love for her child, and there's nothing that shows love more than prioritizing your child's happiness and wellbeing.
"Giving up a child for adoption" is a misleading phrase. You're not "giving up" on your child—in fact, you're doing the exact opposite. You're giving another woman a chance to be a mom, and you're giving your unborn child the gift of a loving family. This is one of the greatest gifts a mother can give to her child.
Trust Yourself—You Know What's Right for You and Your Baby
Many young mothers feel pressured to raise a baby that they can't care for, due to financial, medical or emotional concerns. Trust your feelings—if you know you're not ready to raise a child, that's okay. It's okay to choose adoption. Trust yourself to know what is right for your child. If it feels right, then you should feel comfortable and confident in choosing it. 
Choosing An Adoption Agency
What to Look For
Look for an adoption agency that is licensed and accredited, as this ensures that they adhere to ethical standards and legal requirements. Consider the agency's reputation and reviews from birth parents who have previously worked with them. Consider what resources the agency offers to you as a birth mom, such as counseling, medical assistance, financial assistance and legal guidance. Look for an agency that communicates transparently about the adoptive families, their background, and their commitment to open or closed adoption. The agency should prioritize your preferences and ensure that you have the final say in choosing your child's adoptive family. Considering these factors will help you find an adoption agency that will support and guide you during this emotional and life-changing journey.
Walk This Path with A Guardian Angel
You are not alone in your adoption journey. As an expecting mother, it can be hard to know where to turn for help—but you've got A Guardian Angel with you. A Guardian Angel is dedicated to helping you find an adoptive family who will care for your baby as much as you do. 
The Adoption Process
Contact A Guardian Angel Adoptions
Our team of loving women and adoption experts are available to you 24/7 at toll free 877-742-6435. We have a compassionate staff waiting to answer your questions and concerns. Our adoption facilitators will be with you for each step of your journey, helping you with love, care and understanding. We put great care into matching birth parents and adoptive parents and ensuring that you feel completely confident in your choice. 
Make an Adoption Plan
We will help you start the process by getting to know you, your needs and your hopes for you and your child's future. You will have a case manager to walk with you every step of the way, from beginning the adoption process to helping you get back on your feet after placement. We care for expecting mothers through all parts of the adoption process. From medical care and housing to legal assistance and counseling, we honor your decision by offering the help you need before, during and after your pregnancy.
Choose an Adoptive Family
Once you've chosen adoption, you can find comfort knowing you will have the support you need throughout the process. Should you choose adoption, you can find peace in knowing there are families out there preparing their home and hearts for a child. You can spend the rest of your pregnancy resting and working with your adoption social worker to find prepared and qualified adoptive parents that will give your baby every ounce of love and opportunity they have. 
Adoption Doesn't Have to Mean Goodbye
Many expecting mothers find it hard to place a child up for adoption because it seems like saying goodbye before they've even said hello. While adoption may seem like the end of a relationship, it can also be the beginning. 
In your adoption journey, you have full control to choose exactly how much contact you have with your baby and their adoptive family. Semi-open adoptions or open adoptions let you maintain a relationship with your child in a way that is beneficial to both you and your child.
Many birth mothers find themselves warmly welcomed into the family that adopts their baby. You'll be able to feel the boundless gratitude these parents have for the priceless gift you've given them. Whether you connect through letters and pictures or birthdays and holidays, you can still be part of your baby's life after choosing adoption.