How do Adoptive Families Qualify as Possible Homes for My Baby?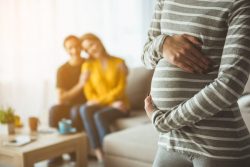 As a birth mother, you have many decisions to make. Choosing your baby's adoptive family is perhaps the biggest one. At A Guardian Angel Adoptions, we want you to feel totally comfortable with your adoptive family and make sure that you have safe, financially stable and happy homes to choose from.
When you decide on adoption, you begin a unique journey. Our agency is here to help you feel as comfortable and supported as possible. As part of our commitment to you and your baby, we require all adoptive parents to go through a detailed screening process. As you will see below, there are many steps for families hoping to adopt. This system ensures that every baby will have a loving, healthy and safe environment.
Step 1: Home Study
Our mission is to bring love and warmth to the adoption process—that is what makes our adoption help so different. We know that you have hopes and dreams and want the best life for your baby. That is why adoptive families must provide not only a house but also a home. The home study is the first part of the evaluation process. During this step, an expert social worker will get to know the family and closely inspect their home. The social worker checks that everything is safe and suitable for a child. The home must have comfortable living space, adequate windows, enough exits, working smoke alarms and fire extinguishers.
Along with checking for all the general requirements for a safe home, the licensed social worker will learn things that are unique to each family: hobbies, jobs, income, beliefs and more. This information is gathered through an interview. This social worker will also gather and verify medical assessments, birth and marriage certificates, criminal background checks as well as tax and financial documents. From there, a detailed home study is  written for every adoptive family. This home study is then reviewed by the head of our social work department and two other department leaders to make sure each family meets all of the A Guardian Angel requirements.
Step 2: Profile
In addition to the home study, each family creates a profile book for you to review. These profiles are one of the many benefits of using our agency. A profile book gives you a look  into the adoptive family to help you know what life in that family will be like for your baby. You will be able review these profiles as part of choosing an adoptive family. We will support you every step of the way as you make these choices. You can select a family that matches your preferences for age, religion, location, family size and more.
Step 3: Match and Placement
We want you to feel peaceful and confident about your baby's adoptive home. That is why you get to decide. Whether you already know what you want or you need to see some options, we will be there every step of the way. During this stage, you pick the relationship you want to have with the adoptive family. With the help of an experienced counselor, you will customize an adoption plan and find a family that is the perfect fit. After the birth, we are still there for you supporting you every step of the way.
Step 5: Post-Placement
To ensure the safety and happiness of every baby, a social worker will do several checks with the adoptive parents after placement. During this time A Guardian Angel is in close contact with the adoptive family to make sure everything is going well with your baby. The social worker will visit with the child and the family, carefully interview them and review medical records. She will then issue post-placement reports to present to A Guardian Angel and also the Judge that will approve the adoption. These are reviewed carefully by our team as part of our commitment to always watch over you and your baby.
So many things happen in life that we do not plan for, but what matters most is how we respond to these unexpected events. You have choices. If you choose adoption, A Guardian Angel Adoptions is here to empower you and carry out your decision.